I think by now we all know that a fit, healthy body does not solely depend on exercise.  And, while we are always encouraging you to dance, dance, dance, we also want to share some nutritional tips and recipes to help keep your heart healthy and your body shapely.  We'll try to share a new recipe at least once a month!  One of our favorite things to make and keep in the fridge is Quinoa Tabouleh.  Quinoa is an excellent source of protein, and this dish is loaded with veggies and bursting with flavor.  Make a batch of this on Sunday, and munch on it all week.
Here's What You Will Need:
1 Cup Quinoa
2 Cups Water (or to punch up the flavor use organic vegetable broth)
1 Bunch Parsley – chopped
3 Green Onions – sliced into thin scallions
3 Medium Tomatoes – small dice
5 Small Persian Cucumbers – sliced length wise and then chopped into 1/4″ half moons (see photo below)
1/2 Medium Red Onion – medium dice
3 Cloves of Garlic – finely minced
Olive Oil (approx. 1/4 cup, but I just toss it on to taste)
Salt and Pepper to taste
Juice of a Medium Lemon (watch those seeds)
**Get creative and add a bit of mint, perhaps some diced watermelon, diced red and yellow bell peppers, or even some feta cheese! However, the recipe above is bursting with flavor as is!**
1. Step one is IMPORTANT!! Dry toast the quinoa in a sauce pan before adding any liquid. Stirring constantly, the quinoa will brown up a bit and smell almost like nutty popcorn! Do this for 4 to 5 minutes.
2. Add your water or vegetable broth to the quinoa and bring to a boil. After it's boiling, reduce to a simmer. Leave it uncovered and simmering until all liquid is gone. Set aside to cool.
3. In a large bowl toss together your parsley, scallions, tomatoes, cucumbers, red onion, garlic, olive oil, salt and pepper, and lemon juice. (and anything else you've decided to add)
4. Add your room temperature quinoa and mix together! SERVE!!!
This is a beautiful dish, bursting with flavor! And it's quite lovely, aesthetically speaking!  We hope you enjoy!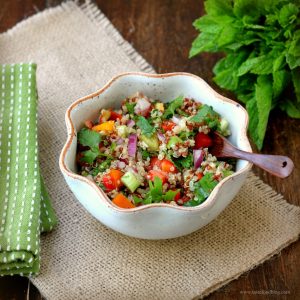 [Sassy_Social_Share]