PlyoJam's innovative workout combines cutting-edge dance moves with short, explosive plyometric exercises for a fun, sexy, sweaty time.
The ever-changing catalog of fun PlyoJam routines features carefully crafted choreography designed for both dancers and non-dancers alike. 
Not a dancer? Not a problem. Beginners will feel like superstars as you tear it up with our sexy and surprisingly intense, yet easy-to-follow routines.
PlyoJam is meant to be whatever you need it to be. Whether you want to manage your anxiety, improve your heart health, increase your stamina and strength, PlyoJam has got your covered. So crank up that music and let go of your inhibitions. 
You'll leave every one of our dance fitness classes feeling invigorated, and with a renewed sense of confidence!
PLYOJAM IS EXCITING, FAST-PACED AND FUN.​
Plyometrics are short, fast explosive movements.  They are built into the routines, but are optional for all students. You can level up your intensity by incorporating the plyometrics, or keep it more mellow by following the modifications. 
Some fitness formats use plyometrics as a repetitious tool, which often feels torturous for students. PlyoJam, on the other hand, takes this extremely effective training tool and combines it with dance, which makes the exercise so much more fun and effective. 
We can't wait to welcome you into the PlyoJam family!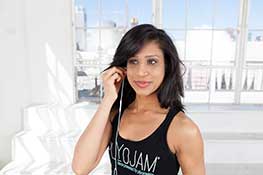 Our cardio dance fitness classes are always fresh and new and our music is on point. PlyoJam workouts are constantly being refreshed and set to today's hottest new tracks, ensuring our students never get bored. PlyoJam becomes a lifestyle because of the music.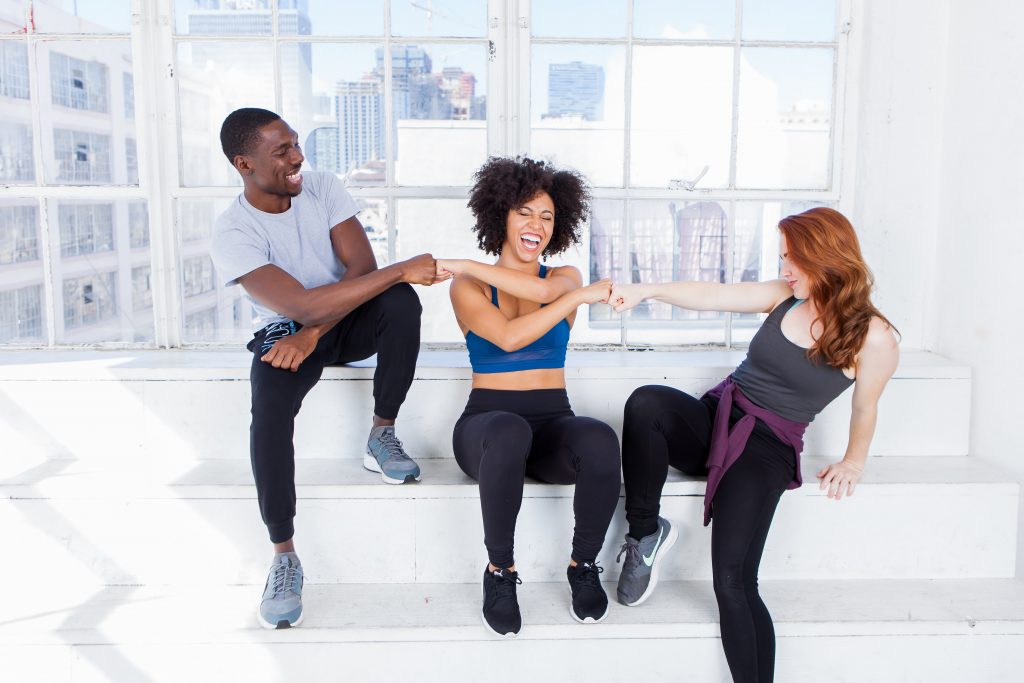 We have a community of the most amazing instructors that motivate and inspire their students. We've also gathered a tribe of dance enthusiasts, now known as our #PlyoJamFam. When you meet a tribe member on the streets, be sure to give them a wink and the secret booty shake signal.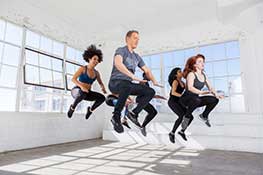 Intensity is the key ingredient that separates PlyoJam dance fitness from all other formats. This ain't your mama's zumba class. The plyometric elements carefully weaved into the routines allow students to level up their workout if that is their desired fitness goal.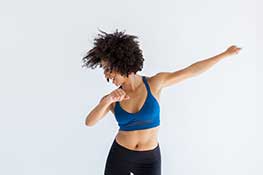 PlyoJam's entire goal is to make you feel GOOD and WORTHY of movement. We don't care about your gender, size, shape, age, or fitness level. We believe you deserve to find a workout program that makes you feel connected and part of a community.
Plyojam saved me from workout boredom! The music and moves are relevant, fun and give an amazing workout. It has made me want to dance all the time. I look forward to going to Plyojam with Stacey all week. And, I get a great workout the other days with Jason doing the online classes. I'm addicted!
WOW, I've never had more fun in my living room! As a stay at home mom, it's hard to make it to the gym BUT Plyojam has become my favorite "nap-time" workout. Jason is so engaging and easy to follow, I also love his energy and enthusiasm. It reminds me to just have fun and not take it all so serious. The music and routines are so fantastic, I feel like I'm JLO's back-up dancer.
I used to go to Jazzercise 5 days a week. Started working from home and just didn't have the time to do it anymore. Started PlyoJam and became hooked instantly! I love the music and the dancing. I don't feel like I am working out at all. My 10 year old daughter loves to do it with me, too. I love the 30 min classes and it's a perfect workout. Keep up the great work! #iloveyojam
Let some of our students and instructors tell you why PlyoJam is THEIR jam!
JASON LAYDEN - CREATOR AND CO-FOUNDER
Celebrity dance fitness trainer Jason Layden was born with a natural talent for dance and he fostered his passion for the art when he studied it at Penn State. In 2012 he decided to blend his love for dance with his interest in fitness and began teaching cardio dance classes.
As Layden's class sizes grew, the number of students requesting him to design more challenging workouts quickly overwhelmed him. They loved dancing, but wanted something with higher levels of intensity. Jason realized that the incredible cardio and calorie burning benefits of plyometrics, or jump training, were missing from traditional dance classes. Thus, he seamlessly blended high-energy, easy to follow dance moves with the intense plyometric training of elite athletes and PlyoJam was born.
Layden began teaching his new PlyoJam concept at a private club in Santa Monica and as the demand grew, he expanded his teaching schedule to boutique gyms and dance studios throughout Los Angeles. Dancing their way through an ever-changing catalogue of routines, students burn a scorching amount of calories with moves that tone, shape and transform their bodies.
Quickly realizing that people were falling in love with PlyoJam and that others wanted to jump on board, Layden and his team created an online certification program so that dance fitness enthusiasts could become certified in this amazing fitness concept.
PlyoJam has been named as one of the top trending workout classes in the country by SELF Magazine, who also dubbed Layden as one of the top ten hottest trainers on Instagram. King of Carpool Karaoke, and host of the Late Late Show, James Corden, credits PlyoJam with helping him lose over 70 pounds and has been an incredible proponent of the method.
Stacey Beaman – COO and Co-Founder
Always having a passion for dancing and music, Stacey Beaman first joined PlyoJam on the dance floor as a student. She was looking for a form of exercise that wasn't torturous, but still delivered results. PlyoJam was just that. PlyoJam became an integral part of her fitness journey and sparked a passion in her.
After completing forty classes in eight weeks and losing an initial twenty-four pounds, Stacey left the country to travel abroad for five months. Upon her return to the states, Stacey picked up right where she left off with PlyoJam, not only on the dance floor, but also on the business side of the brand.
With a B.A. in Communication from USC and an M.A. in Education, Stacey has always had a knack for writing and getting a message across. Social Media became a natural fit for her as she took to the PlyoJam Social Media platforms to start promoting the brand.
Her role with PlyoJam has evolved into a partnership with Jason, overseeing day-to-day operations of the brand from social media, to instructor recruiting and relations, event planning and more. Now seventy pounds into her weight loss and fitness journey, Stacey has truly lived and breathed the PlyoJam concept and has an undying love and passion for the brand. When she's not posting on Instagram or Twitter, she still takes to the dance floor four or five times a week to break a sweat, and has even become a certified PlyoJam instructor. Stacey also loves traveling, movies and whipping up a delicious meal for her friends and family.
Christine Hernandez – Master Choreographer
Christine Hernandez is a classically trained tap, jazz, and ballet dancer with experience ranging from studio work to theatre. She was an American Dance Idol Finalist, a dancer in the film American Son starring Nick Cannon, and a Bakersfield JAM Dance Team Member for the NBA Development League.
Christine's studies continued throughout the state of California to include fitness, salsa, hip hop, cheer, and break dancing in the early 2000's. Her work experience evolved to include choreography for events, pageants and multi-disciplinary dance instruction in that time.
Her love of dance led her to the fitness industry in 2013 when she relocated to San Luis Obispo County and became a barre instructor and a one-time 3rd place bikini bodybuilder. Dance and fitness became one when PlyoJam found her on Instagram. She fell in love with PlyoJam and saw how one hour of class created motivation, dedication, happiness, and a chance of spreading positive community.
Happily and always on the go, she now teaches and choreographs for PlyoJam in the central coast. Her goals in life are to continue her passion and to motivate men and women to live a better healthy life style whether it's through dance or fitness.
LINDSEY MILLER – DIRECTOR OF MASTER TRAINER EDUCATION
Lindsey Miller is a personal trainer, fitness, dance and yoga instructor based in Los Angeles.  She has over 15 years of experience in the dance and fitness industries working alongside top choreographers and fitness professionals in Los Angeles and NYC.  As a former professional dancer, she has appeared in television, film, live shows, music videos and fitness videos.
Lindsey is a trainer for Dailyburn.com, and has been a master trainer for leading companies including Barre Above, The Groove Method, Qignition and Drums Alive.  Lindsey has taught and trained clients at some of the top gyms and studios in Los Angeles and NYC including Millennium Dance Complex and Equinox.  She has her B.A. in Psychology from Clemson University and holds several national certifications including her 200hr RYT, ACSM CPT and Prenatal Yoga certifications.   When Lindsey isn't dancing or teaching, she is chasing her three crazy kids around and writing about it on her parenting blog www.rockinmamalife.com.  As a personal trainer, instructor and educator, she is committed to providing fun, innovative and scientifically effective programming that promotes a healthy body as well as a healthy mind. Lindsey found PlyoJam back in 2016 after wandering into a dance class near her oldest son's preschool and instantly fell in love with Jason's infectious energy and heart pumping dance moves.  Several years and two kids later, when she jumped back into the fitness industry, she knew that PlyoJam was the perfect fit for her to fuse her love of science, fitness, education and dance. 
Read On for Some Sparkly PlyoJam Press!
MY FITNESS PAL WRITER JOINS THE PLYOJAM PARTY
My Fitness Pal blogger Cristina Goyanes braves a New York Health and Racquet Club PlyoJam class with instructor Ebonny Fowler, and discusses the growth and future of PlyoJam with co-founders Jason Layden and Stacey Beaman! Read about her experience and what she learned from Jason and Stacey HERE!
PEOPLE MAGAZINE EDITOR TRIES PLYOJAM
When People Magazine Editor Gabrielle Olya heard that Kate Hudson was a huge fan of PlyoJam, she decided she needed to try the workout for herself. Read about her experience taking PlyoJam creator Jason Layden's class HERE!
NY1 NEWS INTRODUCES PLYOJAM TO NEW YORK CITY
PlyoJam creator Jason Layden makes an appearance on NY1 News to promote PlyoJam in New York and it's launch at the New York Health & Racquet Clubs! Check it out!
PLYOJAM'S PLAYLIST WILL RAMP UP YOUR ENERGY
Rodale Wellness shares PlyoJam creator Jason Layden's current playlist and talks about how these tunes will have you moving and sweating in just a few songs. Need to refresh your playlist? Check out some...
JAMES CORDEN AND REESE WITHERSPOON DISCUSS PLYOJAM
James and Reese chat about seeing each other at a PlyoJam class and compare notes on star jumps, sexy body rolls and their love for our workout. Click HERE! to see the clip from The Late...
Try A FREE Sample Class Today