LEARN THE PLYOJAM METHODOLOGY
Level up your dance fitness classes and train in the methodology that thousands have fallen in love with.
Plyometric infused dance fitness.
A methodology that supports all dance formats to safely and effectively incorporate short, fast explosive movements. We help you seamlessly add "Plyo" to your dance "jam." Our training gives you two options.
OPTION 1 – Learn the PlyoJam methodology and apply it to your current dance fitness format.
OPTION 2 – Learn the PlyoJam methodology and teach the PlyoJam format. 
WE UNDERSTAND DANCE FITNESS
We recognize that spark in a person when they have a deep love for fitness, dance and inspiring others.  You work hard to create an incredible class and choreography for your students. We also recognized the desire and the need to provide a class that meets the needs of ALL students.  Whether it's creating choreography that's easy to understand and follow, or leveling up the intensity of the class to appease students looking to sweat harder and level up their workouts. THIS is the methodology needed to make your dance fitness class stand out from the rest.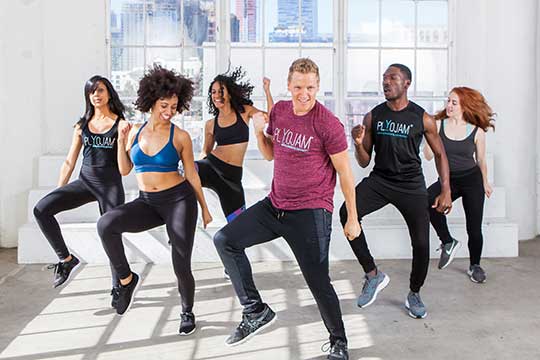 ADD INTENSITY FOR THOSE THAT WANT TO LEVEL UP
Learn a set of techniques designed to help you seamlessly and safely incorporate plyometric inspired movements into your current dance routines without having to sacrifice your individual style.
MAKE IT OPTIONAL SO THERE IS NO BARRIER TO ENTRY
Learn how to enhance the fitness component of your routines by strategically placing OPTIONAL short, fast explosive movements in specific areas of your choreography, while preserving the existing movement as an alternative option.
CLEAN UP YOUR CHOREO SO STUDENTS KEEP COMING BACK
The PlyoJam methodology provides guidelines to create a routine structure that makes it easier for the instructor to teach and cue, making your class more accessible to dancers and non-dancers.
HOW WILL THE PLYOJAM METHODOLOGY
IMPROVE MY DANCE FITNESS CLASSES?
OFFER MORE INTENSITY. We offer an effective and safe way to level up your dance fitness class. We do this with a carefully crafted approach that gives instructors a set of techniques. This approach gives the instructor the creative freedom to increase the intensity they deem appropriate in their classes.
IT'S OPTIONAL. The short, fast explosive movements are not replacing the already existing moves, but rather adjusting them to allow the option of an explosive element. Your students will have options. If they don't want to level up, they do not have to. 
USE YOUR OWN CHOREOGRAPHY. The creativity that dance teachers possess is undeniable, which is why we designed our methodology to enhance the instructors already established choreography.
OR USE OURS. We also recognize the weekly and monthly grind instructors face when having to consistently create new material. It's one of the reasons why we also provide over 350 already choreographed PlyoJam routines, along with new monthly releases in our backstage pass.
OPTIONAL:
JOIN OUR BACKSTAGE PASS MEMBERSHIP FOR $99 PER YEAR
3 BENEFITS OF BECOMING A PROFESSIONAL DANCE FITNESS INSTRUCTOR
We know you're strong. You MUST be because you've downloaded this guide… which tells us you are ready for something new, something big. But just wait….wait for the strength you realize you have when you are brave enough to take the next steps.​
There might be a small part of you that wants to do this on your own. But relying on the warmth and support of a tribe of people who GET what you're going through is priceless. Having a team of people to surround you, lift you up, and help out is so necessary to your success. We think having this fam is so much better than going it alone.​
We've all had jobs that we couldn't stand. But….we have to pay the bills right? Now imagine a world where you can actually get PAID to do something you love? This sounds like a dream….but it doesn't have to be. This can become a reality when you work hard, rely on your team and show off your talents as an incredible dance fitness instructor.
3 things you need to know about becoming a dance fitness professional
We've been teaching dance fitness for a combined fifteen years and we've taught thousands of students. We recognize that spark in a person when they have a deep love for fitness, dance and inspiring others. Why? Because we have it ourselves and we understand that CALLING that just won't go away. If we were gamblers, here's what we would bet about YOU.
WHY INSTRUCTORS LOVE PLYOJAM